Skip to Content
What sets Attica Lumber apart from our competitors?
Attica Lumber has been in the custom post-frame construction business since 1925 and we have constructed well over 30,000 buildings to date.
By making high-volume purchases from reputable long-time suppliers Attica Lumber is able to acquire higher quality lumber than is typically available to the general public.
---
Do I need to have the building pad level?
A level site is preferred and will save a lot of headaches and problems during and after construction.  Your Attica Lumber building specialist will provide and review site preparation guidelines when he meets with you.
Our strongest recommendation is that you require your excavation contractor to provide a level site.  The use of a string level or a transit should be used to determine grade level.
---
Can I pour a concrete slab into the building after the construction is complete?
Yes, this is often done.  Actually, we prefer to do it this way.  Not only does it give you a better finish to your building, but it also serves to further anchor your building to the ground.
---
Can Attica Lumber build a post-frame building on an existing concrete slab?
Yes.  We often are requested to construct on an existing slab and can connect the building to the slab.  We do advise that the preferred method is to construct the building first, then pour the slab.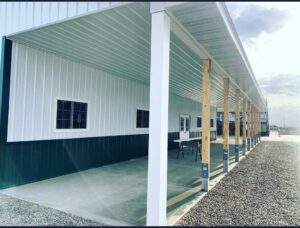 ---
Do I need to have a building permit to have a post-frame building constructed on my property?
The requirement for permits depends on rules established by your state and local code's jurisdiction.  In some cases, no permit is required.
Often where permits are required there are inspections associated with that process.  You should ask about the number and type of inspections required and provide this information to your building specialist.
---
Can Attica Lumber install overhead doors on my building?
Yes, we offer overhead door installation in most areas.  If we do not install overhead doors in your particular area, your building specialist will help you find an installer.
---
Can Attica Lumber install gutters on my building?
Yes, we offer gutter installation in most areas.  If we do not install gutter in your particular area, you building specialist will help you find an installer.
__________________________________________________________________
Do I need to have electricity at the job site?
We prefer that electricity is provided within 50' of the job site.  However, if electricity is not available let your building specialist know and he will make arrangements for the crew to bring a generator.
---
What happens if the builders encounter rock while digging the holes?
Most construction sites in our area allow for hole preparation with normal equipment and within allotted hours for construction.
However, we sometimes encounter rocks or other items that slow down the process.  If equipment rental and down time result from hole preparation the purchaser will be responsible for the extra labor.
---
How should I ventilate my building?
There is a wide range of ventilation options available, such as ridge vents, cupolas, vented soffits, gable vents, and louvered fans, among others.
Requirements for ventilation vary depending on the intended use and should be discussed with your building specialist.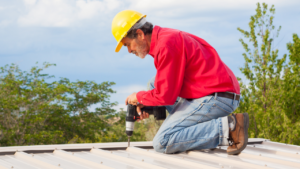 ---
Can I purchase a material kit from Attica Lumber and construct the building myself?
Yes, Attica Lumber sells a large number of material packages each year.
---
Why doesn't Attica Lumber have a price list?
We don't offer a price list because we custom-build to your specifications and we do not wish to limit your choices by
having only a few pre-priced "packages".
Your building specialist will meet with you, discuss your needs, make some suggestions based on your unique project, and price the building that is designed specifically for you.
---
Is there any advantage in using galvalume metal instead of galvanized metal?
Galvalume is aluminum–zinc alloy coating that was developed to give greater corrosion resistance of aluminum and edge coating properties of zinc.  It is applied to the raw steel through a continuous hot dip process.
Galvalume durability, edge protection, and resistance to corrosion are said to be twice that of galvanized metal.  Galvalume-coated steel also offers exceptional heat reflectivity properties.
---
Do I need to send a deposit in when I order a building?
Yes, a portion of the contract amount (25%) is required when you sign your contract.  This provides us with the assurance to process the contract and to invest money in ordering and assembling the materials for shipment.
---
Once I sign a contract, how long does it take before construction begins?
We are usually 6 to 8 weeks out with construction projects.  This time frame is needed to process the contract, manufacture building materials, and to set up logistics with our crews.
---
Can I use my farm exemption number?
Since these buildings are attached to the property and become permanent assets farm tax exemptions typically do not apply.  We suggest that you contact a professional tax consultant about other tax advantages that might be gained.
---
Does Attica Lumber offer siding options other than metal?
Yes, Attica Lumber does offer more than just metal siding. We offer vinyl siding, wood siding, and brick siding.
---
Request a Free Onsite Estimate!