Skip to Content
Attica Lumber Builds Pole Barns for Ohio
You've worked hard for your belongings and we want to help you protect them – which is why Attica Lumber's pole barns are built to stand the test of time. Our one-of-a-kind pole buildings are custom designed by our local pole barn experts and built entirely in-house with 100% American-made steel panels and high-quality pressure-treated and untreated wood.
Customer service has always been our number one priority and the entire Attica Lumber team is dedicated to building you the high-quality, custom pole barn building of your dreams — on budget and on time. No matter if you need a small backyard garage for a little extra storage space or a large, custom pole barn shop to fit all of your outdoor or farm equipment, Attica Lumber has you covered.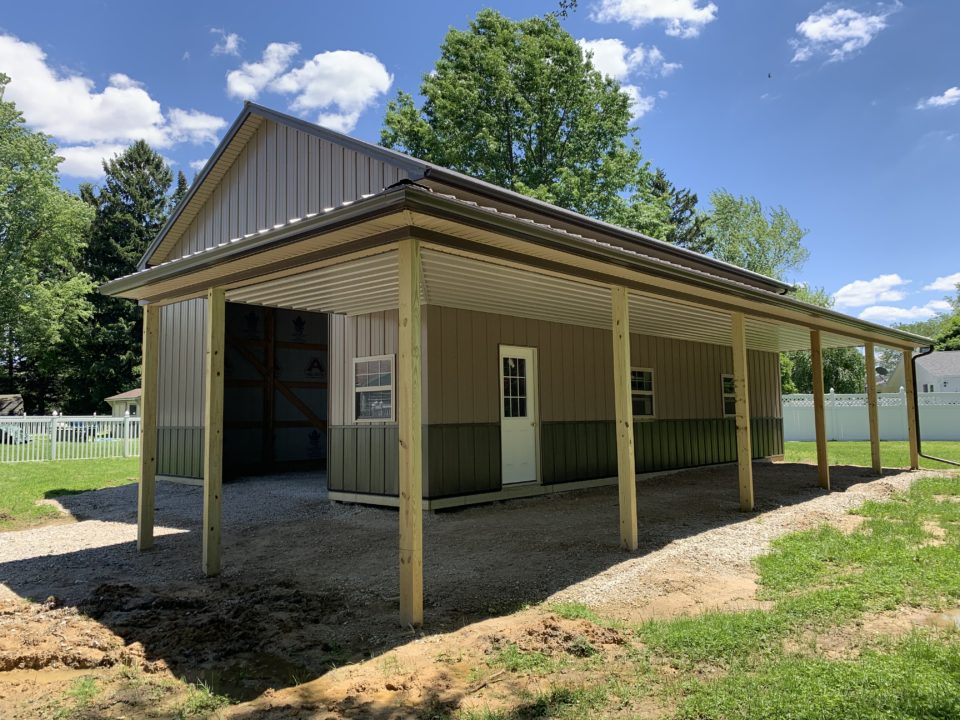 Types of Pole Barns
At Attica Lumber, our experienced team will work with you when designing the pole barn building of your dreams.  If the options provided here do not meet your requirements, please feel free to get in touch with us, and we will make every effort to personalize your pole barn design according to your needs.
Here are some examples of types of structures we use as base builds:
AG
Hobby Buildings
Residential Buildings
Commercial Buildings
Pole Barn Homes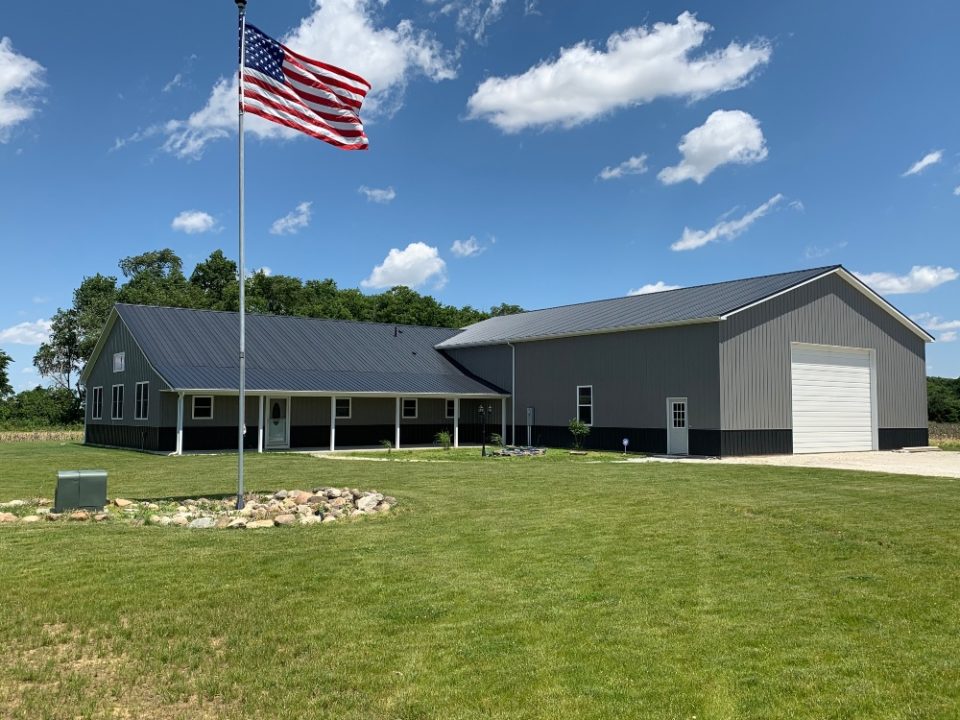 Post-Frame Homes from Attica Lumber
Attica Lumber post-frame homes go up much faster than a traditional home because a foundation or basement is not required.  Steel roofing and siding are also faster to apply than conventional home exteriors.
Attica Lumber post-frame homes are also easy to insulate. The design is flexible to accommodate any insulation or HVAC system.  Compared to a traditionally framed home, labor and materials typically cost less for an Attica Lumber post-frame home.
Because there is no need for interior posts or load-bearing walls, adding or removing walls or even adding a second floor (depending on the height of the frame) is much easier and more cost-effective than with a traditional house. Adding extras like a porch or walk-in closet is possible without substantially raising the overall cost. The best part is that, over time, it costs less to maintain steel compared to traditional siding and asphalt or cedar shingles.
Post-Frame Construction for Ohio Homes
Post-frame construction is very versatile and is ideal for building incredibly beautiful homes. In addition to the traditional home design, some people have large shops with a smaller living space connected to it. Live, work and play in one building!
Attica Lumber post-frame construction offers open floor plan designs and limitless custom options to create a beautiful, warm living space that is uniquely you. Any interior or exterior design elements typically found in a traditional home gets included in an Attica Lumber pole barn home. There is no need to rely on interior posts or load bearing walls for structural support.
Pole barn homes. pic.twitter.com/XfglFUrLPL

— Attica Lumber (@AtticaLumber) June 13, 2023
Request a Free Onsite Estimate!