Skip to Content
Pole Barn Framing: Comparing 1650 MSR and #2 Grade Lumber
By Jenny Moses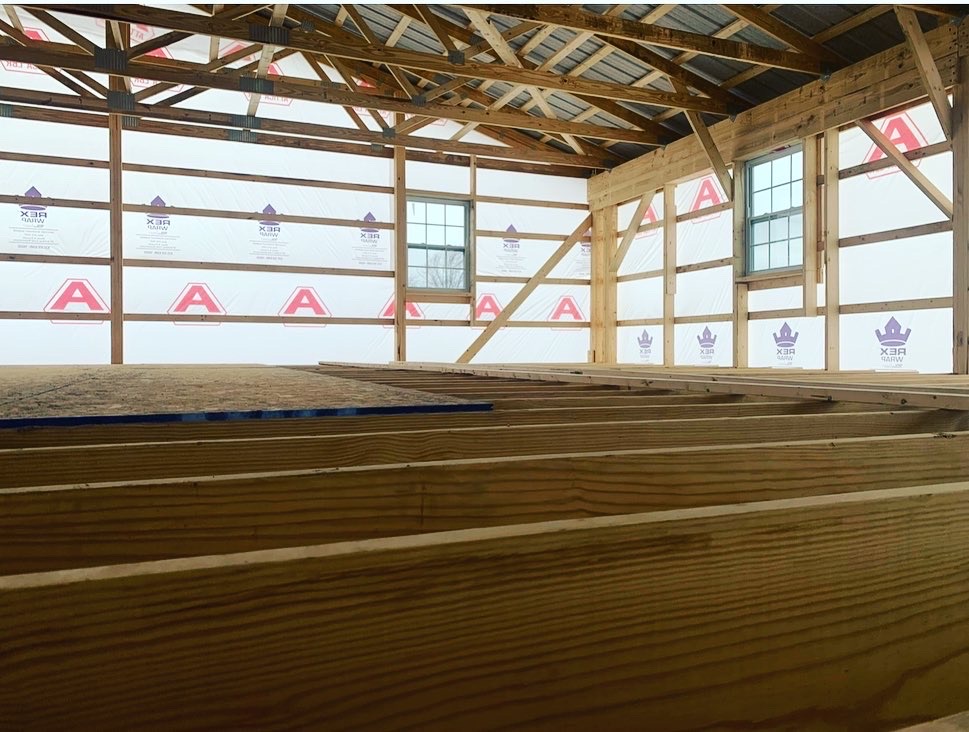 1650 MSR Lumber
1650 MSR lumber is a high-quality lumber product that is used in a variety of construction applications, including framing, trusses, and beams. The term "MSR" stands for "Machine Stress Rated," which means that the lumber has been tested and rated for its strength and stiffness.
The rating system used for MSR lumber is based on the modulus of elasticity (MOE) and modulus of rupture (MOR) of the wood. The MOE measures the stiffness of the wood, while the MOR measures its strength. The higher the MOE and MOR values, the stronger and stiffer the wood is.
1650 MSR lumber has a MOE of 1,650,000 pounds per square inch (psi) and a MOR of 15,000 psi. These values indicate that the lumber is extremely strong and stiff, making it ideal for demanding construction applications.
One of the primary benefits of 1650 MSR lumber is its consistency. Because the lumber is machine stress rated, each piece has been individually tested and graded for strength and stiffness. This means that builders can rely on the lumber to perform consistently and predictably, without worrying about weak spots or other defects that can compromise the integrity of the structure.
In addition to its strength and consistency, 1650 MSR lumber is also prized for its durability. The wood is treated with preservatives to protect against decay and insect damage, which helps to extend its lifespan and ensure that it will last for years to come.
Overall, 1650 MSR lumber is an excellent choice for builders and contractors who demand the highest quality materials for their projects. Whether you're building a home, a commercial structure, or an industrial facility, this lumber product can provide the strength, consistency, and durability you need to get the job done right.
#2 Grade Lumber
Lumber is an essential building material that has been used for centuries in construction projects of all types. 2nd-grade lumber, also known as #2 lumber, is a type of lumber that is commonly used in construction projects where the visual appearance of the lumber is not as important as its strength and durability.
The grading of lumber is done based on the quality of the wood, and #2 lumber is a medium-grade lumber. It is typically made from spruce, pine, or fir trees and has a few knots and blemishes but is generally straight and uniform in size.
#2 lumber is commonly used in framing and structural applications, such as building walls, roofs, and floors. It is also used for outdoor projects, such as decks and fences. Since #2 lumber is not as visually appealing as higher-grade lumber, it is often painted or stained to improve its appearance.
One of the benefits of #2 lumber is its cost-effectiveness. It is less expensive than higher-grade lumber, making it a popular choice for construction projects where budget is a concern. Additionally, #2 lumber is strong and durable, making it an excellent choice for projects where strength and stability are critical.
However, it is important to note that #2 lumber may have some imperfections, such as knots and splits, which can weaken the wood. Builders need to carefully select pieces of #2 lumber that are free from significant defects to ensure that the finished project is structurally sound.
In conclusion, #2 lumber is a practical and cost-effective choice for construction projects where the appearance of the wood is not as important as its strength and durability.  While it may have some imperfections, it is still a strong and reliable material that can be used in a wide range of applications.
Pole Barn Grades of Lumber 1650 MSR and 2 Grade Forum Discussion https://www.finehomebuilding.com/forum/pt-lumber-for-pole-barns
Pole Barn Grades of Lumber 1650 MSR and 2 Grade Forum Discussion  https://www.garagejournal.com/forum/threads/3-grade-lumber-in-a-pole-barn.504709/
Pole Barn Grades of Lumber 1650 MSR and 2 Grade Forum Discussion  https://www.avsforum.com/threads/what-grade-framing-lumber.513399/